Fiscal policy is a matter of multiplication.
October 26, 2012
by Carl R. Tannenbaum, Asha Bangalore and James Pressler
Fiscal policy is a matter of multiplication.
US GDP growth accelerated in the third quarter, but remains less than ideal.
Recent reports out of China reassured the markets, but underlying trends are not so promising.
I learned math the old-fashioned way. One of my early grade school teachers began class every day by forcing us to fill out a multiplication table. It started at 5 by 5 and ended the year at 15 by 15. At home, my father, an engineer by training, instructed me in the fine points of the slide rule. When the first hand calculators came out, they were hideously expensive and actively discouraged by educators who viewed them as the devil's handiwork.

Today's statistical routines are to the old calculators as "Mary Had a Little Lamb" is to the "Flight of the Bumblebee." The power in these new tools has become essential to the analysis of complex systems. National budgets are prime candidates for the application of these sophisticated models, but the key to understanding fiscal dynamics can be found in simple multiplication tables.

When a government spends money, it begins a chain reaction of economic activity. The recipient of a Federal contract, for example, uses the proceeds to hire workers, secure facilities, and buy equipment. All of those activities create revenue streams for the providers of labor and capital, which is in turn spent on other goods and services. This cascade adds to GDP.

Offsetting this, taxes raised to pay for the spending can hinder other forms of economic activity, diminishing the impact of the stimulus. Economists refer to the net of these two effects as a "multiplier" of the initial expenditure. Measuring the ultimate impact of a given fiscal course requires an estimation of these multiplier effects. This is easier said than done.


The wide ranges in the chart above reflect the uncertainty over the size of fiscal multipliers. Estimating them with precision requires holding everything else constant to isolate the influence of a particular action. But nothing in economics stands still. Fiscal multipliers can vary over time and across regions. They also depend heavily on the posture of monetary policy.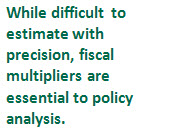 Further, there are stark philosophical differences in our profession surrounding fiscal multipliers. Neoclassicists suggest that intelligent actors will realize that a dollar spent by the government will be a dollar that comes out of their pockets; the net benefit of fiscal stimulus would therefore be small. "New Keynesians" observe that the action of government spending and the reaction of consumers to expectations of higher taxes can be incomplete or separated by lags. Under this view, multipliers can be higher, especially in the short-term.

These philosophical differences are often mirrored in the postures of political parties, which lead them to reach very different conclusions on the wisdom of proposed policies. The degree to which fiscal policies improve GDP growth is central to estimating the ultimate impact on government deficits. Programs that broaden the tax base can defray the cost of stimulative fiscal policies.

In the United States, multipliers are playing a central role in analyzing the looming "fiscal cliff." The spending cuts and tax increases due to take effect in January amount to an estimated $500 billion, or 3 percent of GDP. The impact of the cliff on growth depends on how quickly economic actors will react to the change and adjust their expectations. We tend to think that there would be a detrimental effect in the short-term if the cliff is not smoothed, which could send the US economy back into a recession in the first half of next year.

In Europe, the drive toward austerity -- whether done voluntarily or under agreement with international authorities -- has the potential to create a steeper-than-necessary retreat in GDP if not designed carefully. Across-the-board cuts may have an appealing simplicity, but using what know about fiscal multipliers might allow for a more nuanced approach.

And as our colleague Jim Pressler discusses later on, China will be considering fiscal measures to sustain its rate of economic growth. Selecting well from a broad menu of options will be a first order of business for the new regime.

Skeptics will certainly decry the reliance that policy has on such imprecise specifications. In his Nobel Prize address of 1974, Friedrich August von Hayek worried about basing decisions on "The Pretence of Knowledge." Yet we ignore the influence of multipliers at our own peril. Or so my grade school teacher told me.

Consumer Spending, Housing, and Defense Outlays Lift Q3 GDP

The US economy grew at an annual rate of 2.0% in the third quarter, following a 1.3% increase in the second quarter. The acceleration in growth is a big plus but will likely still be inadequate to bring the unemployment rate down to a point that would meet the Fed's goal of "substantial" improvement in the labor market.

From a historical perspective, real GDP for the US has advanced only 7.2% after a long stretch of 13 quarters of economic growth. This performance pales in comparison with its predecessors.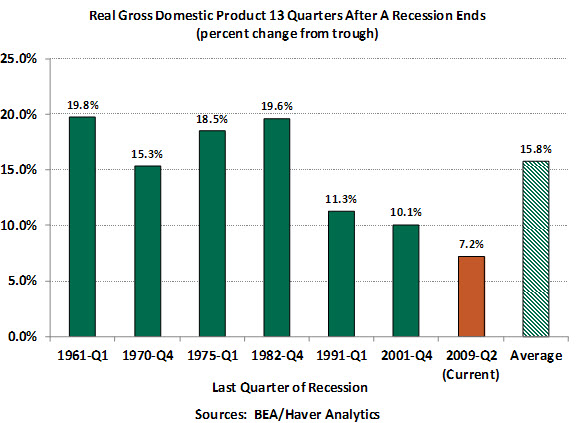 Stepping past the headlines, there are several noteworthy details in today's report. Consumer spending (+2.0% vs. +1.5% in 2012:Q2), residential investment expenditures (+14.4% vs. +8.5% in 2012:Q2), and federal government outlays (+9.6% after four quarterly declines) were the main drivers of growth. Of these three components, forward momentum is nearly certain for consumer spending and housing in the final three months of 2012, based on the nature of incoming data.

However, federal government expenditures are projected to be a drag after the third quarter advance, which was mainly from a jump in defense spending. Business fixed investment failed to advance in third quarter, with outlays on structures declining and capital spending holding steady. The trade deficit widened in third quarter, reflecting a drop in exports, the first decline since the early months of 2009, and a nearly neutral reading for imports. The shaky global economic situation implies that exports are unlikely to make a significant contribution to US GDP growth in the quarters ahead.

Of the other components, the scaling back of inventories was entirely from a sharp drop in farm inventories (-$20.2 billion vs. -$7.9 billion in 2012:Q2) attributed to the drought in the Midwest, while non-farm inventories added to GDP growth ($62.8 billion vs. $53.2 billion in 2012:Q2). The 2.8% increase of the GDP price index after a 1.6% gain in the second quarter is largely an energy price story. Excluding food and energy, the GDP price measure moved up 1.5%, virtually identical to the prior quarter's reading.

Real disposable income grew only 0.8% in the third quarter, which is well short of the pace of consumer spending (+2.0%). This discrepancy begs questions about the sustainability of consumption in an environment where households are expected to save more, not less.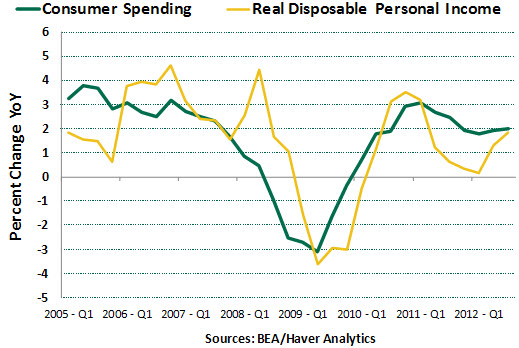 Looking ahead, growth in the fourth quarter should nearly match the pace seen in the last three months. However, the uncertainty associated with the fiscal cliff and a strong likelihood that the 2.0 percent payroll tax holiday will expire in 2012 suggest a tepid pace of activity in the first quarter of 2013.

China: The Headlines Versus the Indicators

Over the past week, markets have taken comfort in Beijing's latest economic releases – at least the ones that moved in the right direction. September exports rose a surprising 9.2% over the past year, industrial production on a real gross value added basis maintained a steady growth of 0.8% on the month, and inflation held at a very manageable 1.9% in September. But probably most comforting of all was third quarter (Q3) GDP, released on October 18 (even before the US could compile its own preliminary figures). China's year-over-year GDP only slowed to 7.4% growth in Q3, defying the naysayers who insist the economy is in trouble.

In fairness, we have sided with the naysayers in past articles, and feel that there are underlying imbalances in the Chinese economy which are still playing out. Beijing has proclaimed that the economy reached its low point in Q3, and would gradually reclaim momentum going forward. And rest assured, the government's much-touted goal of 7.5% growth for all of 2012 will indeed be met, given the central party track record of announcing results in line with expectations.

What concerns us, however, is that the tea leaves we are sifting through suggest a different future. China's economy is all about investment, in particular the creation of capital, which has expanded at approximately 25% over the past decade. Between 2003 and 2011, investment in fixed assets increased from 31.4% of GDP to 63.9% of GDP – unquestionably an amazing rate of expansion, but now a requirement for continued growth. And that investment is presently expanding at a ten-year low with little promise of an immediate recovery.


As the above chart shows, growth in investment stokes up GDP and the slide takes away from growth. The investment trends of the last three years are consistent with the growth patterns. Now with investment in the doldrums and showing no sign of a quick recovery, our expectations are, not surprisingly, somewhat bearish.

Beijing's once-a-decade transition in political leadership is set to take place in early November, and we do not expect any major policy moves until after that event. The careful choreography that typically attends this event has been disturbed to a degree by an increasing volume of reports surrounding wealth accumulation by senior officials. (It is unclear whether these accounts in the Western press are visible in China, but modern media are increasingly circumventing censorship.) The impact of these revelations on the management of the Chinese economy is unclear.

Once the new president has settled into office, we will be looking for signs of a recovery agenda to be announced and quickly implemented. Formally, growth will be reported as on the mend starting in Q4, but we don't think a genuine recovery will show until 2013, or perhaps later. Eventually, soft fundamentals may hamper the ability of optimistic economic reporting to compensate.
The opinions expressed herein are those of the author and do not necessarily represent the views of The Northern Trust Company. The Northern Trust Company does not warrant the accuracy or completeness of information contained herein, such information is subject to change and is not intended to influence your investment decisions.