2011 Outlook: Seeking Escape Velocity
December 2010
Summary

Global financial markets have staged an impressive rally from the financial crisis bottom in March 2009, supported by easy monetary and fiscal policy. While the first stage of the rebound was set by the exhaustion of selling pressures, Federal Reserve accommodation and government stimulus, it has not been a smooth trip. The massive debt levels accumulated pre- and post-crisis have bolstered bearish views on the economy and markets - creating the wall of worry stock markets so love to climb. The major question faced by investors today is whether the recently improving global growth outlook will be sufficient to achieve escape velocity - pulling the global economy out of the debt vortex left by the financial crisis.

As the European sovereign debt crisis demonstrates, losing the confidence of the bond market can be very problematic. To wit, President Clinton's advisor James Carville famously said in 1993, "I used to think if there was reincarnation, I wanted to come back as the President or the Pope or a .400 baseball hitter. But now I want to come back as the bond market. You can intimidate everyone."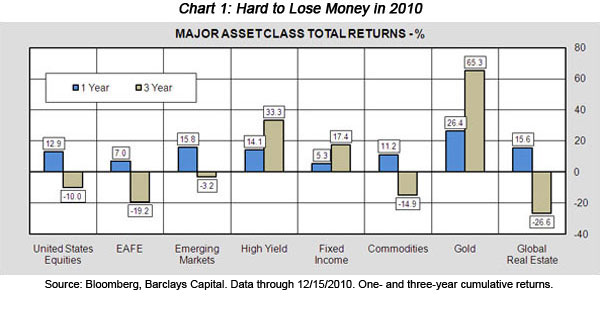 An accelerating global economic expansion would start to relieve cyclical budget pressures, easing investor concerns and giving the advanced economies time to start dealing with the structural budget deficits arising from maturing populations and burdensome entitlement programs. While we do believe we will witness a noticeably improved global expansion in 2011, it is too soon to conclude that escape velocity is at hand.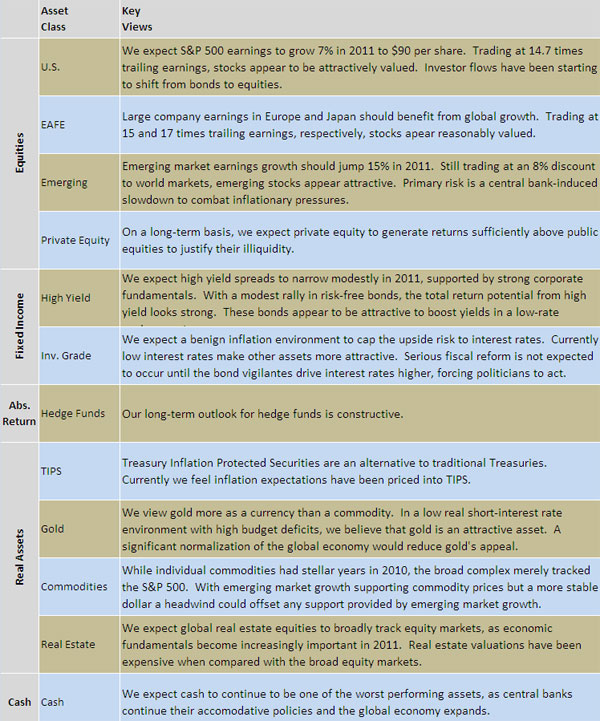 Growth Outlook

The global economy entered 2010 with reasonable momentum, and investors were discounting the Fed's "exit strategy" to shrink their balance sheets and remove liquidity. A mid-year pause in economic growth - and a persistently high unemployment rate - has led to the Fed's implementation of the second round of quantitative easing (QE2), which is expected to extend through June 2011. So will this round of quantitative easing succeed where the first round failed? We think the answer is most likely yes. In addition, we think President Obama's move toward the center in the wake of the mid-term elections will provide a boost to business sentiment and prove to be pro-growth.
The Fed's purchase of bonds from primary dealers directly reduces bond supply and increases bank reserves. All of the other ramifications of quantitative easing are indirect and out of the Fed's control. Interest rates jumped after both quantitative easing programs were announced, due to expectations of increased growth and inflation concerns. Excess bank reserves are high, and this has not yet led to increased lending. Equity prices, however, have increased more than 15% since the end of August, when the Fed plan started to take shape. We think the combination of the wealth effect of the stock market rise and an eventual increase in bank lending will contribute to a sustained economic expansion, rendering QE2 a success.

After a mid-year slowdown, we have seen reacceleration in the major global economies (except Japan) during the last several months. Global corporations have very high profit margins, and are beginning to reinvest in their businesses. U.S. consumers are feeling more confident in the wake of the stock market rally and diminishing layoffs, bolstering retail sales. European growth is being driven by strong German export growth, which is increasingly reliant on emerging market demand. With U.S. growth accelerating and emerging market growth remaining very robust, we see global growth speeding up throughout 2011 and supporting risk-taking in the financial markets.
Inflation Outlook

The inflation outlook today is a tale of two worlds. The advanced economies have excess productive capacity and little pricing power, and the emerging markets face shrinking spare capacity and labor. These countries also have a greater sensitivity to food prices. Current U.S. inflation is well below historical levels - since 1952, mean consumer price index (CPI) inflation has been 3.7% as compared with 1.2% as of November 2010. This is occurring in an environment where manufacturing capacity use is only 75% and we have a nearly 10% unemployment rate. Emerging economies, in contrast, are experiencing inflationary pressures ranging from 5% in China and Brazil to nearly 10% in India. The primary concern is that inflationary pressures lead central banks to tighten policy significantly - the usual catalyst for a recession and a resulting equity bear market.
In the United States, headline inflation is heavily weighted toward housing (42% of CPI). With considerable excess inventory in national housing markets we do not expect this to put pressure on consumer prices. Our discussions with corporate leaders reveal scant evidence of corporate pricing power - with input price increases being managed through modest price escalation and cost savings. We also don't see much pressure from the labor markets - we expect the pace of U.S. growth to only gradually lower the unemployment rate during the next year.

The emerging markets picture is more challenging, as their labor markets tend to be healthier and excess productive capacity is scarcer. However, food price inflation has been a considerable driver of current inflation - and history suggests this volatile factor should moderate. Year-to-date, food prices are a major contributor to inflation pressures in emerging markets - including China, where food price inflation is running at 11.7% compared with 5.1% overall CPI. We do not expect a disruptive policy response in China as authorities seek to support growth while moderating asset price inflation, but this remains one of our main risk cases to an otherwise constructive view on the financial markets in 2011.
Central Bank Outlook

Central bankers, particularly the Fed and the European Central Bank (ECB), have been key players in fighting both the financial crisis and its aftereffects. The Fed, based on Chairman Ben Bernanke's study of the Great Depression, has vigorously fought deflation risk by exploding its balance sheet and, correspondingly, bank reserves. The ECB, with a sole stated mandate of price stability, has been stingier in its liquidity programs but has stepped up significantly to try to stabilize financial markets. The People's Bank of China was most successful, by working directly through its banks, in accomplishing a jump in the money supply to help stimulate growth during the crisis.
We expect the Fed and ECB will be very patient in removing liquidity and raising interest rates, with no significant moves expected in 2011. First, as noted earlier, we do not expect to see inflationary pressures forcing their hand. In fact, with recent trends in consumer prices continuing to decelerate, the Fed is still fighting deflationary risks. Second, the history of financial crises shows that the recovery in economic growth and asset prices is a multi-year phenomenon, and that raising rates too early is a common risk.

Emerging market central banks are likely to continue to be more restrictive in their policies, due to inflationary pressures in goods and asset markets. China has chosen, to date, to tighten policy primarily through administrative actions like increasing bank reserve requirements. Other emerging central banks have implemented various capital controls to limit the inflows of capital from the low-rate developed economies - making investing in these markets less predictable. Overall, 2011 looks to be a year in which emerging market monetary policy should be measurably tighter than that of developed markets, with the resulting upward pressure on interest rates and currencies.
Political Leadership Outlook

The importance of analyzing the political landscape likely reached its pinnacle during the financial crisis, but has only diminished modestly since. The severity of the market turmoil allowed policy makers to take unilateral actions with little initial oversight - changing the rules of the investing game as they went along. Today, we still need to focus on the political landscape as it relates to the outlook for the economy and financial markets. But the environment has become more constructive toward business and financial markets. During the crisis, government responses were aligned and the public was generally ignored. Today, politicians are taking voter feedback and doing what they typically do - seek re-election. This should be supportive of growth trends over the next two years.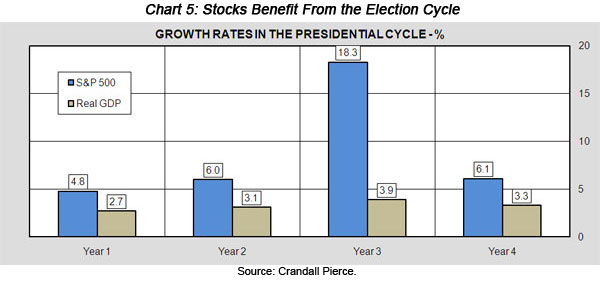 The new political environment ranges from the big Republican wins in the U.S. mid-term elections to violent student protests on the streets of London and Rome. We believe the Democrats' loss of the House of Representatives has changed the political power balance, and will force President Obama toward the center. The extension of the Bush-era tax cuts (also extending unemployment benefits and cutting payroll taxes) should boost growth in the United States in 2011, in line with typical election cycle pump-priming initiatives. We are also seeing some signs of regulatory rollback that could help boost business confidence.

European leaders are dealing with an even trickier landscape, as the peripheral countries (Greece, Ireland, Portugal and Spain) deal with debt market challenges while the leaders of the financially stronger countries (Germany, France and the Netherlands) deal with the political fallout. We expect the European political situation to continue to be relatively bumpy during the next year as the sovereign debt situation continues to develop. Broadly speaking, emerging market leaders are more focused on controlling the inflationary pressures percolating up from their stronger growth, and capital flows due to low interest rates in the developed economies.
Fiscal Repair Outlook

The severity of the financial crisis was levered by private debt accumulation, and the cleanup efforts have led to a surge in public debt accumulation. Developed countries have seen jumps in their debt loads as they bailed out troubled enterprises and provided stimulus for economic growth. Emerging economies suffered significantly less financial system stress and managed to keep their debt levels fairly constant. The developed economies also face greater long-term deficit concerns because of their aging populations. So the resulting analytical focus is on the developed economies, primarily Europe, Japan and the United States.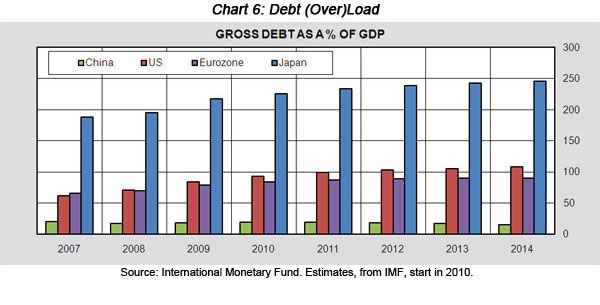 Different approaches to the government deficit situation are currently playing out on the global stage. European nations, measurably pushed by nervous bond markets, are embracing austerity at a time when their economic growth picture is still uncertain. Europe's problem is not the collective debt level as much as reaching a political solution for shared responsibility. Japan remains the most indebted large nation, and faces a shrinking population to help shoulder its debt. While their Japan's bond market vulnerability to the bond market is mitigated by the high proportion of debt held internally, its political system also seems unable to materially change the country's economic course.

In the United States, austerity calls may have been a key part of the mid-term election chemistry, but they seem to have been quickly forgotten during the efforts to extend the Bush-era tax cuts and unemployment insurance and to reduce employee payroll taxes. Talk is surfacing of a new push toward managing the U.S. debt level when the new Congress assembles in January, but we remain skeptical of the willingness of politicians to tackle this problem voluntarily (i.e., without the bond market forcing the action through higher interest rates). If Washington was to craft an intermediate- to long-term solution to our debt problems, and the cyclical recovery were to continue globally, we think asset markets would react very favorably.
Municipal Bond Outlook

A discussion of public debt issues would be incomplete without an analysis of the municipal bond market, due to the importance of state and local spending to the economy (roughly double the size of federal spending) and to many investors. Munis have held up reasonably well during the last three years, despite increasing worries about credit quality. The fourth quarter of 2010, however, has been difficult as prices have fallen and yields have risen. What has led to this turnaround and what does it mean for the 2011 outlook for municipal bonds?
Municipal bond yields are ending 2010 near 18-month highs as the rise of Treasury yields, the likely end of the Build America Bond program and lean dealer inventories have pressured prices (notice that we have not cited credit worries). While there will be individual issuer problems cropping up in 2011, and we expect another year of difficult budget negotiations, we think state and local governments have displayed credible fiscal discipline through a combination of spending cuts and tax increases. We do expect the credit environment to remain challenging, and want to "stay at the top of the budget" (owning general obligation bonds) as opposed to "being at the bottom of the budget" (appropriation bonds or leases).

The current municipal yield curve is historically steep, so investors have been rewarded for extending duration. Municipal bonds are cheap relative to U.S. Treasuries, but could stay that way for a while. In 2011, we expect a broadly diversified municipal bond portfolio to generate a return roughly equal to current yields.
Equity Sector Strategy

Our views on specific sectors are driven by both our overall views on the economy and financial markets (macro view) and the fundamentals and valuations within the sectors (micro view). Our macro view throughout most of 2010 was that excessive slack in the economy would keep inflation low and provide the Fed cover to keep accommodative monetary policy in place for all of 2010 and far into 2011. Recently, this view was paired with a more optimistic outlook for the effectiveness of the Fed's easy money policy, given its potential money multiplier effects, as corporate and consumer deleveraging slows. This dynamic, combined with continued tailwinds from the Asian region, provides a more constructive outlook for demand.
We feel the sectors that offer opportunities are industrials, technology and energy. We expect industrials to benefit from strong emerging market growth and solid domestic growth, as seen indicated by the Institute for Supply Management manufacturing and new orders indices. These growth dynamics are reflected in book-to-bill ratios that are above one. Technology could continue to benefit from the same capital expenditure dynamic - reflected in an expectation of mid-single digit growth for information technology spending in 2011. Our view on technology is also supported by the potential for continued strong corporate profits (which usually lead to increased capital expenditure spending) and healthy balance sheets within the tech sector. Finally, our view on energy is based on a more constructive outlook on global demand - and the effects that should have on energy needs.

Two sectors that we feel may underperform are telecommunications and utilities. These two sectors have underperformed in the past during a cyclical recovery. While utilities stocks are currently sporting yields north of 4%, capital returns in other sectors look superior. Telecommunications companies have a poor fundamental outlook with traditional landline businesses in decline and wireless businesses suffering from heavy competition.
PAST PERFORMANCE IS NOT INDICATIVE OF FUTURE RESULTS. This material is for information purposes only. The views expressed are those of the author(s) as of the date noted and not necessarily of the Corporation and are subject to change based on market or other conditions without notice. The information should not be construed as investment advice or a recommendation to buy or sell any security or investment product. It does not take into account an investor's particular objectives, risk tolerance, tax status, investment horizon, or other potential limitations. All material has been obtained from sources believed to be reliable, but the accuracy cannot be guaranteed.
Northern Trust and its affiliates may have positions in, and may effect transactions in, the markets, contracts and related investments described herein, which positions and transactions may be in addition to, or different from, those taken in connection with the investments described herein. Securities mentioned are for illustrative purposes only and are neither a recommendation nor an endorsement.